BIG Lowcountry Boil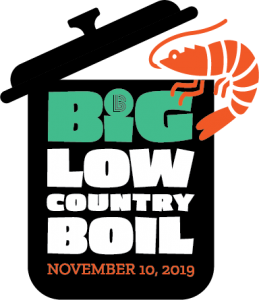 Join us and over 300 other community-minded, fun-loving guests throughout the Tri-County Region for a fun and traditional Lowcountry Boil complete with Holy City Brewing craft brewed beer, an exclusive event brew, a Firefly Distillery signature cocktail, games/activities, and the sounds of The Midnight City Band.
We believe all youth deserve an opportunity to reach their full PROMISE and POTENTIAL. To ignite this potential, YOU make it possible for us to create and support hundreds of local one-to-one mentoring relationships designed to help children achieve:
Greater SCHOOL success
Better RELATIONSHIPS with parents/guardians/peers
Avoidance of violence, drug use, and other RISKY BEHAVIORS
Greater CONFIDENCE and higher ASPIRATIONS for the future
DATE: Sunday, November 10, 2019, 1:00-5:00 PM
VENUE: Holy City Brewing's SOON-TO-OPEN NEW BREWERY (1021 Aragon St., N. Charleston)
TICKETS: This year's ticket includes food, two (2) Holy City Brewing craft brew beers, a Firefly
Distillery signature cocktail, and entertainment. (Additional beer/wine/liquor and regular
menu items are available for sale.)
Discounted Early Bird Admission (ends September 30):

Single Admission (1 ticket): $35
Double Admission (2 tickets): $60

General Admission (rate begins October 1):
To purchase tickets, visit www.bbbslowcountry.org/boil, email [email protected], or call 843.480.4776.
SPONSOR: To explore sponsorship opportunities, contact Merridith Crowe at [email protected] or 843.480.4776.
SPONSORSHIP INFORMATION
EXCLUSIVE Presenting Sponsor $5,000—One (1) Available
Mentions of the "BIG Lowcountry Boil, presented by " all marketing materials and in all public relations efforts (produced and disseminated following commitment)
Premier recognition on all marketing materials including invitations, signage, banners, email blasts, website, etc. (produced and disseminated following commitment)
Placement of logo on any event promotional materials produced by BBBSL (produced and disseminated following commitment)
Option to run cobranded print, television, internet, or radio advertising with agency approval
Ten (10) complimentary tickets to the BIG Lowcountry Boil
Premier logo placement on BIG Lowcountry Boil web page
Recognition in all promotional social media blasts (Facebook, Instagram, Twitter)
Option to distribute company promotional materials at the event (materials supplied by sponsor)
Premier logo recognition on event banners/signage and P.A. announcements through event (banner produced by BBBSL)
Option to display additional company banner (banner supplied by company)
Premier logo placement on agency corporate partners page for one (1) year: www.bbbslowcountry.org/corporate
Prominent recognition in agency's Annual Report
TIDEWATER Sponsors $1,000
Prominent recognition on all marketing materials including invitations, signage, banners, email blasts, website, etc. (produced and disseminated following commitment)
Five (5) complimentary tickets to the BIG Lowcountry Boil
Prominent logo placement on BIG Lowcountry Boil web page
Recognition in social media blasts (Facebook, Instagram, Twitter)
Option to distribute company promotional materials at the event (materials supplied by sponsor)
Prominent logo recognition on event banners/signage and P.A. announcements through event (banner produced by BBBSL)
Prominent logo placement on agency corporate partners page for one (1) year: www.bbbslowcountry.org/corporate
Recognition in agency's Annual Report
OLD BAY Sponsor $500
Two (2) complimentary tickets to the BIG Lowcountry Boil
Logo placement on BIG Lowcountry Boil web page
Recognition in social media blasts (Facebook, Instagram, Twitter)
Recognition on event banners/signage and P.A. announcements through event (banner produced by BBBSL)
Recognition on agency corporate partners page for one (1) year: www.bbbslowcountry.org/corporate
Recognition in agency's Annual Report
Email or Mail to:
Big Brothers Big Sisters of the Lowcountry
c/o Merridith Crowe
4151 Spruill Avenue, Suite 140, N. Charleston, SC 29405
[email protected]